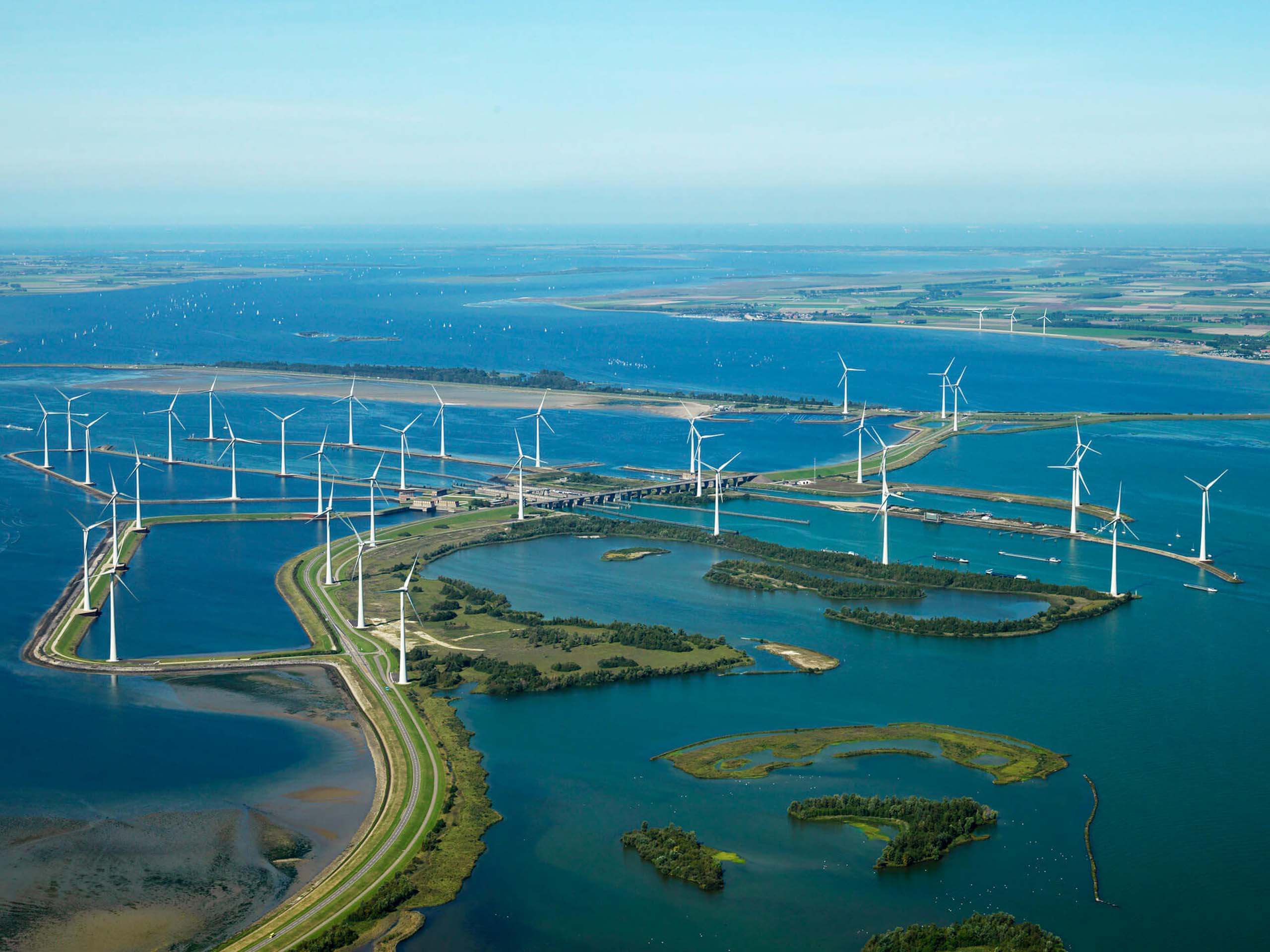 Windfarm Krammer
Project:
Onshore Wind Energy, Windenergie op land
Project description:
Windpark Krammer is the largest citizens' initiative in the Netherlands. The more than 4000 members of the cooperatives Zeeuwind and Deltawind have taken the initiative to develop this wind farm on and around the Krammersluizen. The wind farm will produce enough energy to supply more than 100.000 households with green electricity. In addition, the region can also participate in this wind farm. The plans for this are being worked out at this moment. The wind turbine project consists of 34 E-115 wind turbines of Enercon, each with a capacity of 3 MW. The wind farm therefore has a total capacity of 102 MW. The wind turbines are interconnected with 33 kV cables to transport the generated power to a new 150/33 kV transformer station that is owned by the wind farm. From the transformer station, the wind farm will be connected to the new 150 kV Middelharnis station of grid manager TenneT. In the spring of 2017, the construction of the 150 kV cables has started as well as the construction of the new substation. In November 2017 the 150 kV cable connection and the substation have been completed and have been energised. During the whole project the 33 kV wind farm cabling has been installed phase by phase in line with the progress of the installation of the wind turbines and taking all permit restrictions into account related to the nature reserve located next to the wind farm and related to the location of the cables at dikes.
Activities of Energy Solutions:
For this project Energy Solutions performs the following works on behalf of WP Krammer and therefore plays an important role in the design and realisation of the this wind farm:
Writing the Employer Requirements for the electrical infrastructure for the design and realisation of the 150 kV grid connection cables and the 150/33 kV transformer station.
Technical support to the project management with the tendering of the electrical infrastructure.
Evaluation of the detailed designs made by main contractor ENERCON and their subcontractors ABB, Alsema, Prysmian and TKF, for the various parts of the electrical infrastructure.
Liaising with the TSO TenneT for the 150 kV grid connection of the project.
Project support during the engineering and fabrication. Coordination and performing quality inspections during the realisation, testing and commissioning of the electrical infrastructure.
Performing various grid simulations (steady state, dynamic studies, harmonic studies) to accompany the grid connection proces and discussions between main contractor Enercon and TSO TenneT.
Interesting websites: